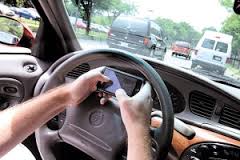 New FMCSA regulations prohibit texting and hand-held mobile phone use while operating a commercial motor vehicle used in interstate commerce.
Drivers caught texting or using hand-held mobile phones are subject to fines, disqualifications, and being put out-of-service.
The FMCSA rules do not apply to devices used for dispatching, as long as they are used as part of the company's fleet management system and are not being used for texting.
Research shows that CMV drivers who text were more than 23 times likely to be involved in a safety-critical event than those who do not.
CMV drivers dialing mobile phones were 6 times more likely to be involved in a safety-critical event.
While using hand-held devices to call or text is expressly prohibited, using the hands-free options of these devices is usually acceptable.
While state rules usually apply first, the fact that many states still haven't devised rules to address distracted driving means that the FMCSA rules apply regardless of what state you are in.