PPACA Tax and Benefit Compliant, at Surprisingly Affordable Costs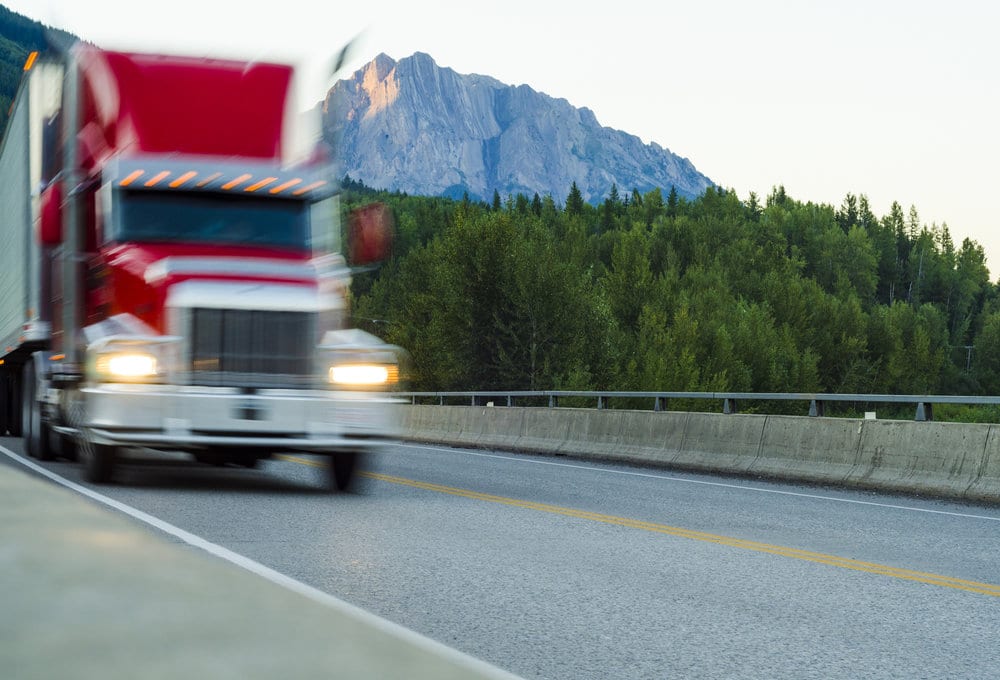 Proprietary Benefit Programs Uniquely Crafted to Meet Your Employees' Needs
ARCHER JORDAN is a dedicated group of experienced financial and risk management professionals. As product developers we are daily working with insurance carriers, third party administrators and technology partners, to deliver our clients strategic custom insurance solutions matched with impeccable service.
We Don't Have a Second Team
We don't staff administrative positions. We don't hire junior or even mid-level people. There are no layers between us as principals and our clients. Our promise is that we will always give 100% of ourselves, including our best ideas and insights to save our clients money and make their job easier. The majority of our clients are government contractors and American corporations with large workforces being paid hourly wages. We prefer to plan ahead, looking at a three-year strategy to balance the fiscal health of our client's benefits package and the clinical health of its participants. Importantly, we don't cut corners, ever, and always custom tailor benefit plans for our client's unique needs.
Made to Order
At ARCHER JORDAN, we take compliance and saving our clients money seriously. Unlike the large TPA's and Brokerage Houses, we never place our clients in pre-packaged retirement or health and welfare plans. In fact, that is the primary reason we went into business for ourselves. We got tired of seeing the one size fits all approach by consultants. Companies are made up of people, individuals with specific needs and wants. We do our best to accommodate each employee need. Whether it is finding a carrier network that has favorable pricing for an individual needing a Tier 4 specialty prescription drug, geo-tracking to match an individual with their PCP, or designing individual and/or corporate benefits that can't be found in the marketplace, at ARCHER JORDAN, we aim to please!
ARROW Contractors Plan and Trust:
The Prevailing Wage Contractors Benefit Plan and Trust
Contractors Trust is our IRS approved and Department of Labor Bona-fide Benefit Plan and Trust, designed specifically for government contractors. Along with insurance products and strategic consulting, we provide government contractors with proprietary benefit programs.
A Partial List of Clients: SCA and DBRA Contractors
Davis-Bacon Act
General Contractors
Specialty Contractors
State Prevailing Wage
Service Contract Act
US Postal Mail Hauler
Security Guards
Maintenance
Ability One
The Following is a Partial List of Our Benefit Offerings:
Retirement/Pension Plans, Profit Sharing 401(k)s
CashPlan (Our Supplemental Un-Employment Benefit Plan)
Vacation/Holiday, Apprenticeship and ongoing Training benefits
Major Medical
MECs (Minimum Essential Coverage Plans)
Part-time Plans
Supplemental Health
Ancillary Benefits
Limited Medical
Voluntary Benefits.
Workforce Benefits: Hourly, Part-Time, and Seasonal Workforce Benefit Plans
Surprisingly Affordable PPACA Tax and Benefits Compliance Plans for 50+ (FTE) Employees.
Surprisingly Affordable PPACA Tax and Benefits Compliance Plans for 50+ (FTE) Employees. Our SimplePlanmedical insurance plans and WorkforceChoice supplemental benefits are our Employee Benefit Programs for Hourly and Seasonal Workers.
A Partial List of Clients:
Agribusiness
Contractors
Foodservice
Healthcare
Hospitality
Maintenance
Retail
Staffing
Our Benefits Array includes:
Profit Sharing Simple 401(k) Retirement Plans
Major Medical
MECs (Minimum Essential Coverage Plans)
Limited Medical
Supplemental Health
Ancillary Benefits
Part-Time Plans
Voluntary Benefits
Retirement Solutions:
The Prevailing Wage Contractors 401(k) Pension Plan
No Conflicts of Interest, No Hidden Fees, No Worries
Our fully disclosed and transparent fee model with no conflicts of interest puts us on the same side of the table as our clients. We are experts at plan design & management, vendor & platform selection, fiduciary investment management, fiduciary governance & stewardship and participant education and advice. Everything coordinated by one team – so you know who to count on.
Count on Retirement Solutions to:
Creatively consult on the design of your Plan to achieve the goals that matter most to you
Oversee all compliance matters / testing and explain them in a way that is clear and understandable
Maintain oversight of all service providers to your plan including the third party administrator, record -keeper, custodian, investment managers and mutual funds
If necessary, lead the search for new service providers
Meet with you periodically throughout the year to review options, allocation strategies, testing and performance
SimpleHR:
Human Touch First with the Support of User-Friendly Technology
Featuring "Human-Touch" Technology
SimpleHR begins with our cloud-based HR management portal that streamlines online enrollment, employee communication, and benefits administration year-round. SimpleHR enables employers to offer a personalized benefits enrollment experience that helps employees find the right plans for their health and financial needs.
Our Human Touch Technology
We assign each client specific support individuals depending on their unique needs, account managers, senior human resource professionals, investment advisors, retirement and or health plan advisors, compliance officers, accounting professionals, to make sure you have the answers when you need them, fast, efficient and always provided by our caring, and very HUMAN support staff.
Does Health Care Reform Have You a Little Confused?
The Un-Affordable Care Act
A Modern Day Fairy Tale
Large, medium and small employer groups, have all been affected by a rushed and unwieldy piece of legislature called the Patient's Protection and Affordable Care Act. As we have all found out, what we actually need is protection from this unaffordable monstrosity that has brought nothing but confusion and added cost to our already broken healthcare system. Is it any wonder the brightest legal minds and savviest CEOs are gobsmacked by this political hot potato!? The following chart, provided by the Kaiser Family Foundation, gives us a clearer view of the law in an infographic. Not unlike the fairytales of our childhood, this story is best told in picture form. Let's see if we can shed some light on the flow of how the law works, for you, the employer, and your employees.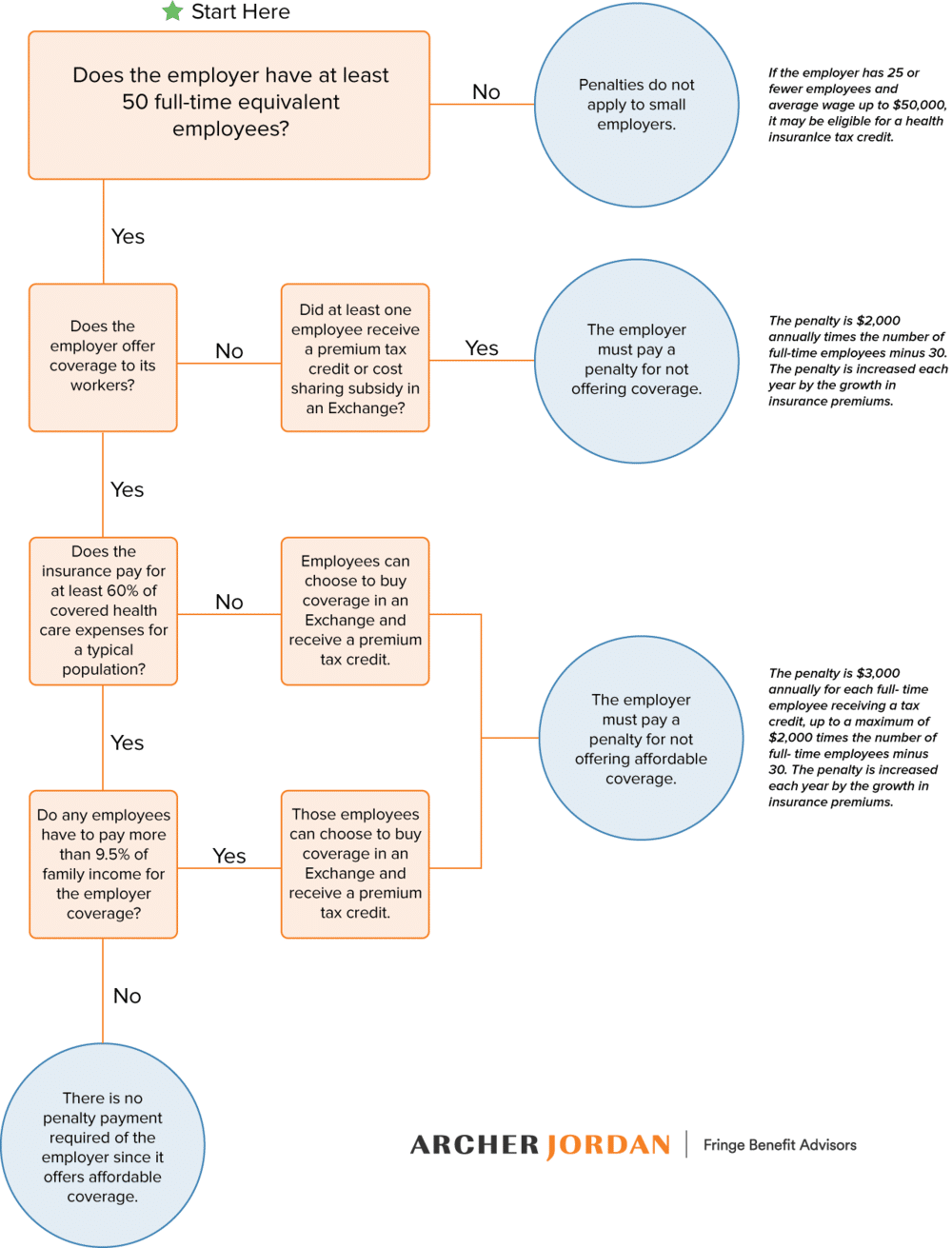 Tax Consequences for Businesses
Penalties for Employers Not Offering Affordable Coverage Under the Affordable Care Act
Let us customize a SIMPLE SOLUTION for you!
Benefits Provided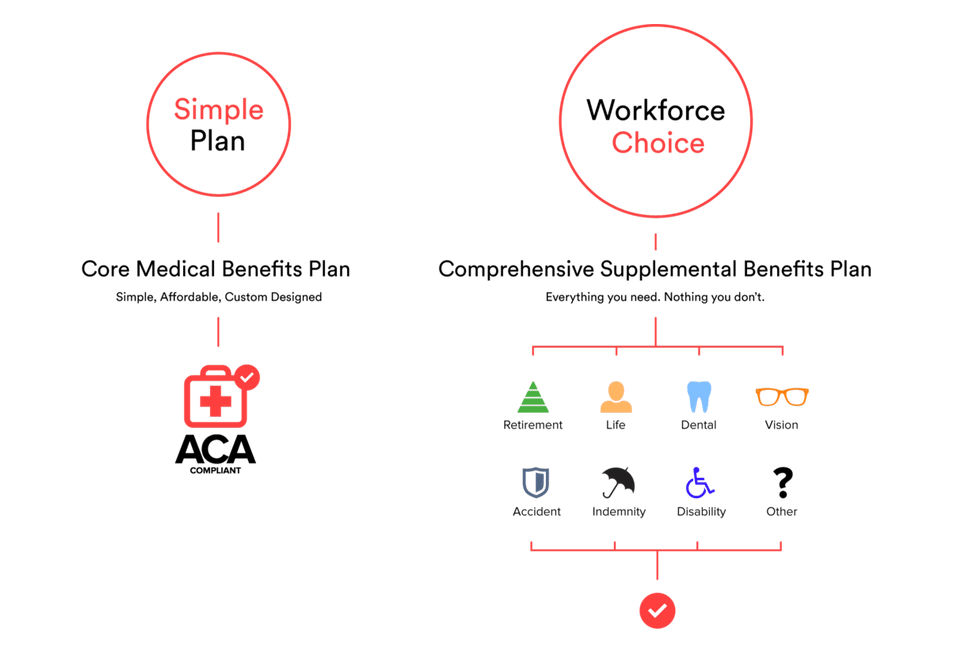 Real Solutions, Real Savings, and No Nonsense—